ECOWATER REVERSE OSMOSIS DRINKING WATER SYSTEM

Model ERO 375

Reverse Osmosis (RO) drinking water systems provide high-quality
water for worry-free drinking or cooking. This state-of -the-art filter
will improve the quality of water from wells or municipal water
supplies.

Options: Electronic monitor under faucet that indicates when
membrane/filters should be changed.
Expandable to 4, 5 or more system stages.
Can be customized to treat specific problem water needs.
Permeate pump adaptable.
Uses pressure from water supply to boost faucet flow.




ECOWATER WATER SOFTENER

Model ESD 518

Solid-state electronics record usage patterns and control regeneration
frequency based on predicted needs.
This model has a 3 year warranty on all parts and labor. Monthly salt
usage for a family of 4 is approximately 30 lbs. on 20 grain hard water.





Pro's Pick® Water Softener Salt

Our high purity water softener salt contains up to 99.6% pure salt. Evaporated naturally by the sun and wind, these solar crystals have a white, opaque appearance and a low insoluble content. They are also formulated to resist mushing and bridging, minimizing the accumulation of brine tank residue. We have the lowest price for
a 50 lb bag in the area. We deliver salt to residential or commercial customers within 25 miles of our Monroe office.





DOL-FYN DISTILLER

The Dol-Fyn water distiller is the most consumer friendly distiller on the market. The units goes in the basement and we run a food grade line to a second faucet
at the kitchen sink or refrigerator.










ECOWATER COMMERCIAL WATER SYSTEM

EWS: 102S, 132S, 162S, 192S, 252S, 322S, 363S, 452S, 602S
Effective and Efficient Water Softener with 2" Eco Flow-Pack valve.
Systems are available for single, duplex, triplex, and quadplex operation.

HEALTHYWAY AIR FILTRATION SYSTEM
EMF Model 20600-3

What's in the air you're breathing? This unit is one of the most
advanced air purification systems in the world. This system is
certified by FDA as a class 2 medical device and defined as a medical
air purification system. Independent laboratory testing certified
bacteria kill at 98%-100%, virus kill at 99%-100%, mold and fungi
kill at 94%-100%. The system includes dual cleanable prefilters for
larger particulate collection.
The system also includes 4 pounds of granule carbon and zeolite
filter for high capacity multiple gas/chemical scrubbing.
The EMF system is 99.7% effective at collecting .3 microns size
particulate. The 12 inch diameter EMF filter is 100% sealed so no
air can bypass around the filter to assure 100% of the air passing
thru the system is treated by the EMF germ Killing zone.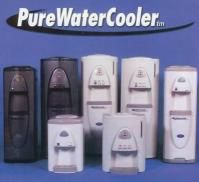 PUREWATER COOLER

Vertex offers a full line of bottle-less coolers with models and options
to meet your cooler needs.

Model PWC-2000R is our most popular 3/temperature unit.
This model has an automatic ozone cleaner.

Options: Cold/Hot
Cold/Room Temperature
Cold/Room Temperature/Hot

For more information visit: www.ecowater.com