Serving South Central Wisconsin and Northern Illinois Since
1958.

' Saving The World's Water, One Tap At A Time.'


Your Water Conditioning, Softening and Drinking Water Solution.

EcoWater Systems,

It's That Good.
We rent high efficiency water softeners at an affordable price. Seasonal specials available.
We will remove at no charge your old softener.
Century EcoWater has been serving South Central Wisconsin since 1958. We currently have over

60 years of experience in the water treatment business. We are staffed with licensed plumbers.
Our water conditioners will use 30% to 40% less salt and regeneration water than most

comparable equipment on the market. Our residential units will use less than 3 lbs. of salt per charge
and less than 25 gallons of water.
We service most brands of water softeners. If we cannot fix your unit due to lack of parts, we don't

charge you for a service call.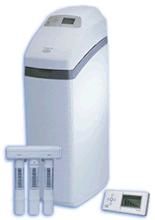 Setting the Standards
Since 1925 EcoWater Systems has been developing innovative and state-of-the-art technology to take care
of your home water needs. As the world's largest manufacturer of residential water treatment systems, EcoWater has proven to better
the quality of your home's water for nearly 85 years.
EcoWater is the largest manufacturer of residential water treatment
systems in the world. We have a solid reputation as water experts and would like to put our expertise to work

for you. Our watertreatment systems improve the water that touches everyone and everything in your home.
Service before and after the sale really sets us apart. Your satisfaction is our #1 priority
.
Now you too can
have clean, fresh, odor-free water for drinking, cooking, bathing, laundry and cleaning.